Clinical Trials
The Epilepsy Foundation of Metropolitan New York posts information about clinic trials for purposes of information only and unless otherwise noted is not a co-sponsor of any study or clinical trial.
---
Human Epilepsy Project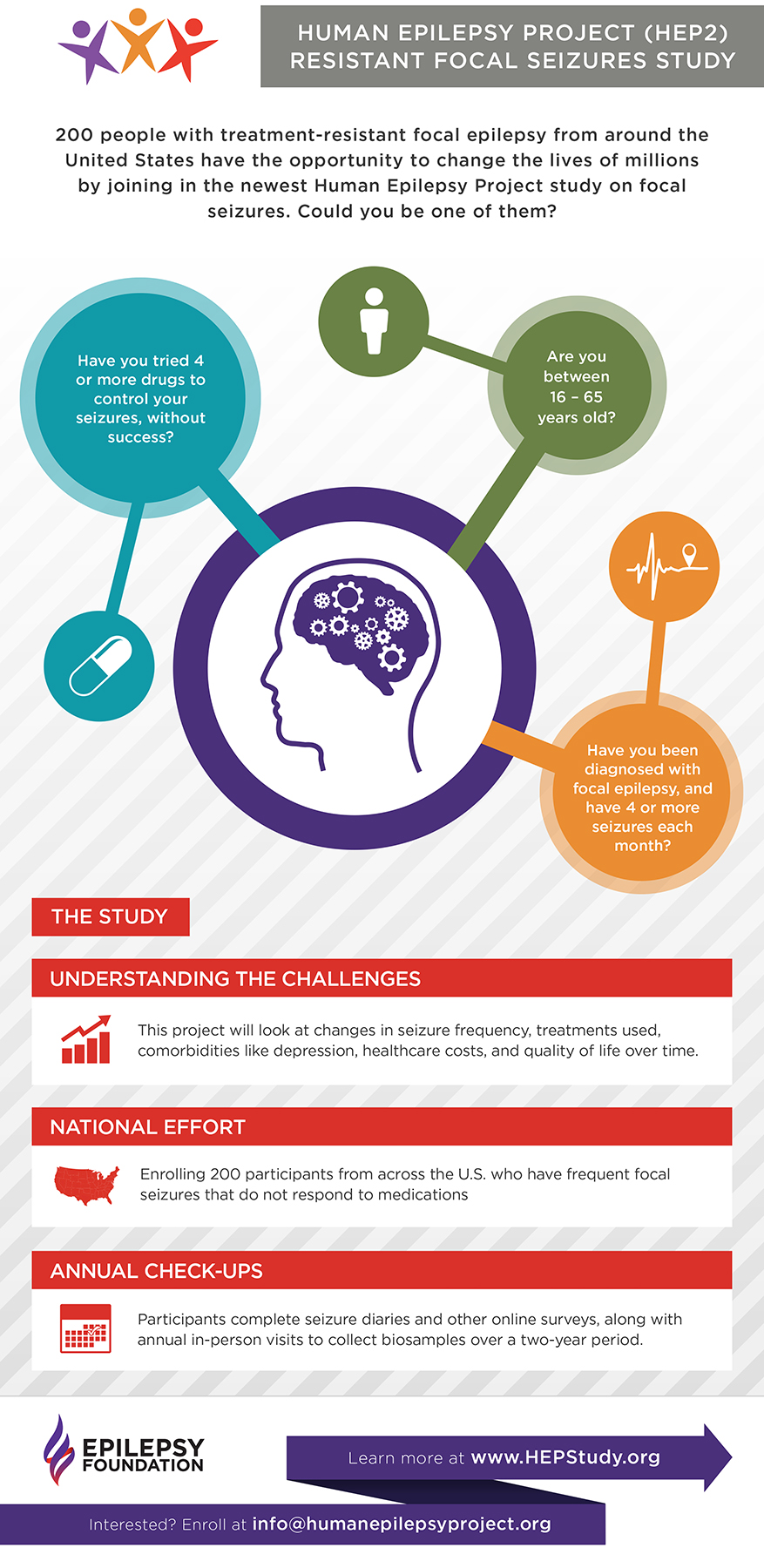 The Epilepsy Foundation recently launched a new partnership, called the Human Epilepsy Project, in collaboration with the Epilepsy Study Consortium. This study (which is called HEP2 for short) is designed to better understand the challenges of living with focal seizures that do not respond to medication.
Learn more about HEP2: http://bit.ly/2I2HBS6
Download the brochure: http://bit.ly/2HPoAhE
View the infographic: http://bit.ly/2IdTrrR
---
The Valor Study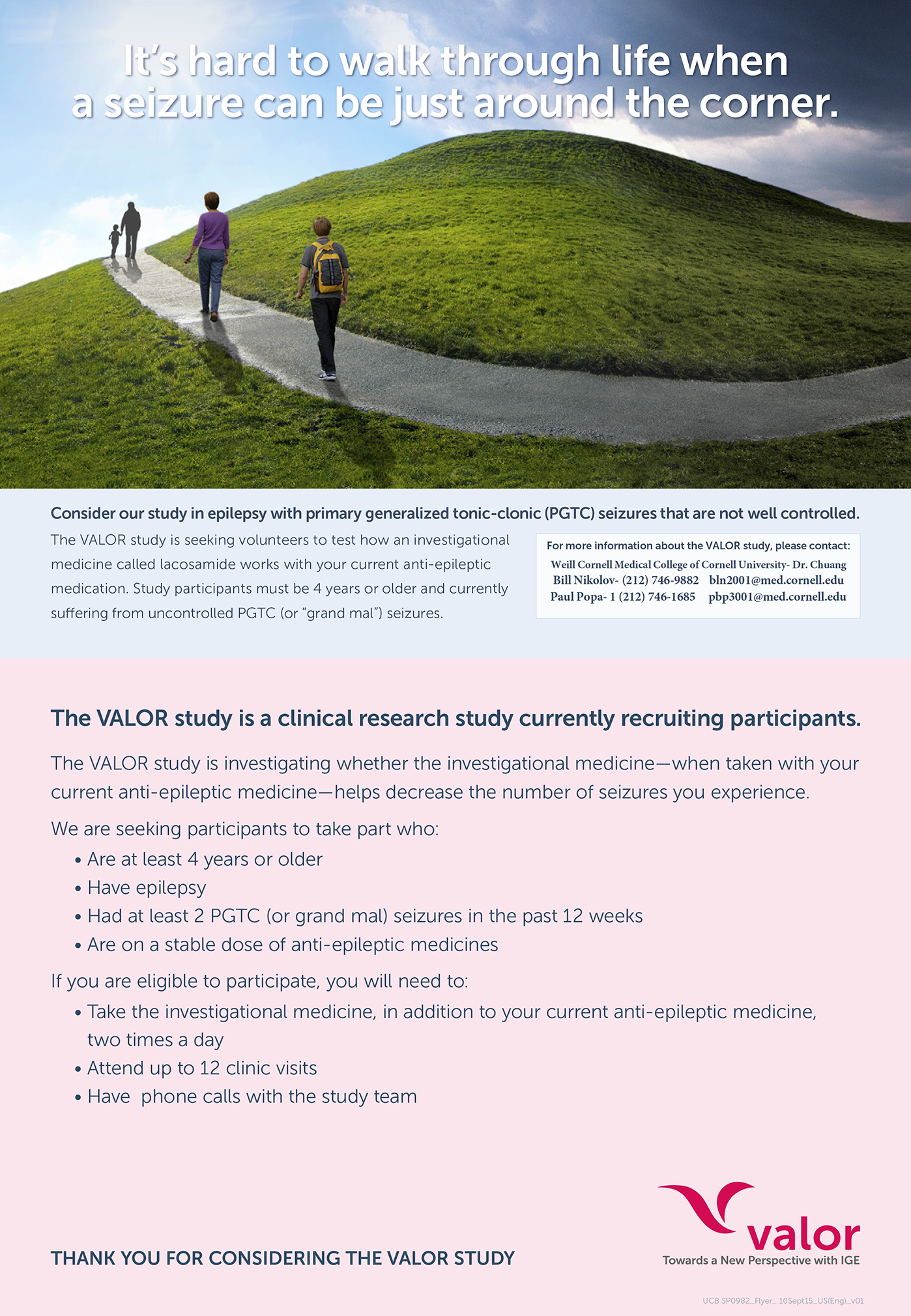 ---
The Daisy Study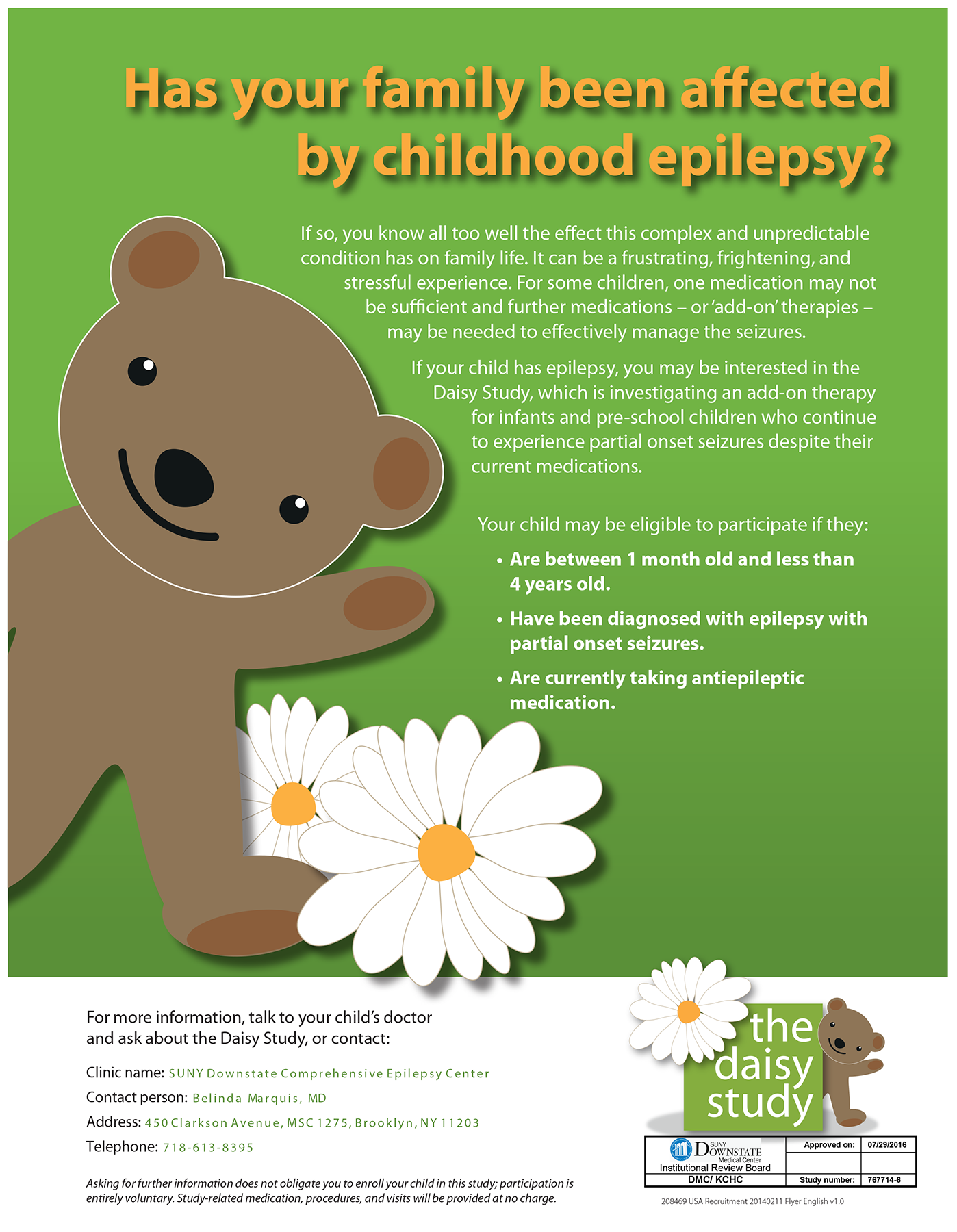 ---
Stress Management Intervention for Living with Epilepsy (SMILE)
The purpose of this research is to test whether a behavioral intervention can reduce the frequency of seizures in patients with epilepsy. The study uses smartphone diaries to collect information about seizures, mood, and stress. Subjects will be taught a behavioral technique, which they will practice daily using the smartphones. Eligible subjects include adults 18 years and above with partial epilepsy, experiencing at least 2 seizures per month, on stable dose of medications.
This study is open for recruitment at the following locations:
Montefiore Medical Center, Bronx, NY
Principal Investigator: Sheryl Haut, MD (718-920-4898 / shaut@montefiore.org)
Study Coordinator: Emily Polak, PhD (718-920-6033 / epolak@montefiore.org))
University of Cincinnati, Cincinnati, OH
Principal Investigator: Michael Privitera, MD (513-558-5440 / PRIVITMD@UCMAIL.UC.EDU)
Study Coordinator: Adrienne Fleck, RN (513-558-3726 / fleckar@UCMAIL.UC.EDU)
---
Women with Epilepsy: Pregnancy Outcomes and Deliveries (WEPOD)
The purpose of this research study is to see if it is more difficult for women with epilepsy to become pregnant than healthy women without epilepsy, and to compare seizure frequency in women with epilepsy before and during pregnancy.
Key Inclusion Criteria: women between ages 18 and 40 who are planning pregnancy and have stopped or planning to stop birth control.
Key Exclusion Criteria: use of hormonal therapies for contraception, diagnosis of infertility, diagnosis of polycystic ovary syndrome.
This study is open for recruitment at the following locations:
Brigham and Women's Hospital, Boston, MA
Principal Investigator: Page Pennell, MD (617-732-7547 / ppennell@partners.org)
Study Coordinator: Yasmin Elsayed (617-732-5423 / yelsayed@partners.org)
Long Island Jewish Medical Center, New Hyde Park, NY
Principal Investigator: Cynthia Harden, MD (718-470-7310 / charden@nshs.edu)
Study Coordinator: Connie Lau, MS, CCRC (718-470-7074 / clau@nshs.edu)
New York University School of Medicine, New York, NY
Principal Investigator: Jacqueline French, MD (646-558-0868 / Jacqueline.french@nyumc.org)
Study Coordinator: Brigid Staley, MPH (646-558-0843 / brigid.staley@nyumc.org)
This study is also posted on clinicaltrials.gov: http://clinicaltrials.gov/ct2/show/NCT01259310
NYUSOM
IRB APPROVED