Events & News
National Epilepsy Awareness Month 2015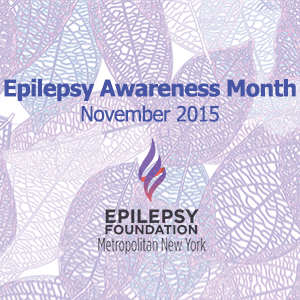 November 2015
November is National Epilepsy Awareness Month! Celebrate all month long with EFMNY as we set out to engage our local and online communities in raising epilepsy awareness by getting the word out about basic epilepsy facts, treatment and seizure control options, and seizure first aid. There are so many ways to get involved:
Share Epilepsy Facts on Social Media
Educate others about epilepsy awareness by sharing an epilepsy fact on social media every day during the month of November. If you're looking for facts or inspiration, follow along closely with EFMNY's Facebook and Twitter profiles for new stuff to share everyday, or begin with our Epilepsy 101 section, conveniently available in eight languages! For inspiring stories about persons within our community living with epilepsy, be sure to check out our EpilepsyNYC Blog. If you're looking for even more share-able and tweet-able facts, Epilepsy.com's 1 in 26 page is an excellent resource.
Host a Purple Party
Celebrate National Epilepsy Awareness Month by hosting your own Purple Party! Treat friends, family and co-workers to a purple-themed party complete with purple foods, purple decorations and purple clothes! Have guests each bring an epilepsy fact to share and harness the power of your community in order to raise epilepsy awareness!
Make a Donation
There's no better month than November to honor someone you love who has been affected by epilepsy by making a gift to the EFMNY in their honor. Your donations allow the EFMNY to continue providing essential, direct services to the NYC epilepsy community.
---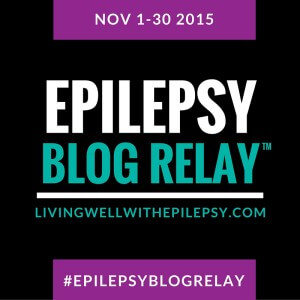 November 2015
The Epilepsy Foundation of Metropolitan New York is a proud Media Sponsor of Living Well With Epilepsy's Epilepsy Blog Relay™, an epilepsy awareness movement designed to maximize collaboration and eliminate stigma.
The concept is simple. 30 bloggers post on their own site, each taking one day of the month. In their post, participating bloggers are asked to acknowledge the blog relay with a link back to Living Well With Epilepsy and to promote the next day's post. The Epilepsy Blog Relay will run from November 1-30, 2015 in celebration of Epilepsy Awareness Month. Each week will have a focus meant to encourage greater collaboration.
Check out the Epilepsy Blog Relay! »
---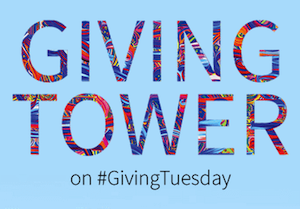 December 1, 2015
Join EFMNY as we participate in the second annual Crowdrise Giving Tower campaign on #GivingTuesday, December 1, 2015. The Giving Tower is a virtual tower made up of bricks, each of which represent a donation made to charity on #GivingTuesday. CrowdRise is creating a free app that allows your donors to experience the Tower in an immersive virtual reality environment. Using 360 video, "Magic Window" and Google Cardboard, donors will enter a world where they'll interact with the Giving Tower in real-time and watch it get taller and taller as more donations come in to thousands of amazing causes, including Epilepsy Awareness.
#GivingTuesday kicks off the Holiday Challenge, a friendly fundraising competition with over $250,000 in grand and weekly prizes.
Donate to support EFMNY's #GivingTuesday & Holiday Challenge »
---
Infantile Spasms Awareness Week
December 1 – December 7, 2015
Infantile Spasms is a very rare form of epilepsy that typically begins within the first few months of life and carries the potential to put an infant's long-term development at risk. Join the Epilepsy Foundation of Metropolitan New York and Mallinckrodt Pharmaceuticals as we lead the way in educating pediatricians, neurologists, parents and caregivers about the latest information on the diagnosis and treatment of Infantile Spasms.
Join the EFMNY in supporting greater awareness and understanding of Infantile Spasms and stay tuned for educational materials such as videos and blog posts coming in December!
---
Studio E Art Therapy for Teens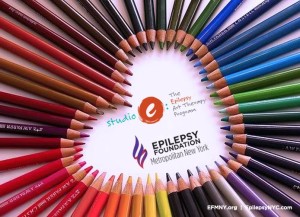 October – December, 2015
The Epilepsy Foundation of Metropolitan New York is excited to announce the first ever Epilepsy NYC Studio E Art Therapy for Teens!
Studio E offers a unique way for people with epilepsy to socialize with others and open up honestly about daily challenges in a trusting, creative environment. Art therapy promotes self-expression and builds confidence. Recent studies have shown that Studio E improves quality of life and
self-esteem.
After the great success of the Annual Studio E Program hosted by EFMNY and supported by well-received public exhibitions, Art Therapist Melissa Diaz joins us once again to provide an 8-session group program, in the same open studio model, but now tailored specifically for teenagers with epilepsy.
WHO: Teens ages 15-19
WHEN: Tuesdays after school beginning in late October 2015 (8 sessions)
WHERE: Mount Sinai Beth Israel's PACC at Union Square
To enroll or learn more please contact Katie Lorenzo at klorenzo@efmny.org or call us at 212-677-8550.
The program is offered at no cost to participants. You must be 15-19 years old. Seating is limited and a phone interview with the art therapist is required.
---
March 20, 2016
The EFMNY is an Official Charity Partner of the 2016 United Airlines NYC Half Marathon! Race through Central Park and the streets of Times Square, catch beautiful views of the Hudson River from the west side highway, and finish at the iconic South Street Seaport. The 2016 United Airlines NYC Half provides you with an opportunity to transform lives in a direct and meaningful way.

EFMNY is looking for runners! Run on behalf of the Epilepsy Foundation of Metropolitan New York to raise money for epilepsy awareness but hurry, space on Team EFMNY is limited!
Contact us to run on behalf of EFMNY! »
---
Annual EFMNY Dinner
April 2016
Join us for an evening of fun, food, drinks and entertainment, all while furthering epilepsy awareness and supporting the EFMNY's unique mission to provide personalized services to the NYC epilepsy community!. Stay tuned for more details on the EFMNY's Annual Dinner!
For more information, please contact Chilton Harper at charper@efmny.org »
---
EFMNY Golf Outing at the Metropolis Golf Club
May 2016
White Plains, NY
Join us next spring for a day of golf and fun in the sun! Staged in a 4-man scramble format, participants will play a round of golf with cart, followed by an awards ceremony with cocktails/ hors d'oeuvres and a silent auction.
Work on your grip, practice your short game, improve your backswing and go for par with fellow epilepsy advocates and golf enthusiasts, all while supporting the Epilepsy Foundation of Metropolitan New York's unique mission!


For more information, please contact Chilton Harper at charper@efmny.org »
---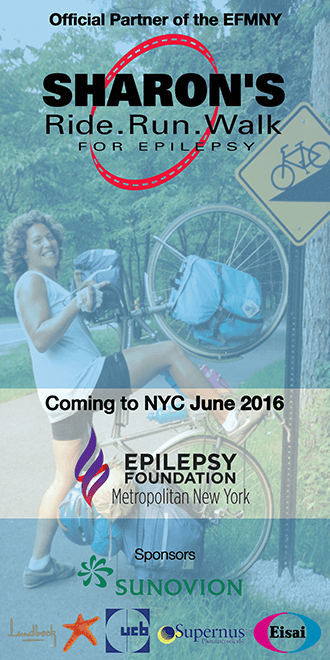 Sharon's Ride.Run.Walk for Epilepsy – NYC
June 2016
EFMNY is proud to announce its partnership with Sharon's Ride.Run.Walk for Epilepsy, one of the nation's largest and longest ongoing epilepsy education and awareness events, dedicated to the memory of Sharon Rosenfeld, a nurse and teacher, who cared deeply about epilepsy and advocated helmet safety.
Sharon's Ride will kick off the Inaugural Sharon's Ride NYC in June 2016, and event proceeds will directly support the Epilepsy Foundation of Metropolitan New York.
Sharon's Ride raises awareness of the importance of helmet safety, that helmets worn during head injury-prone sports can prevent many new cases of epilepsy.
---
Sharon's Ride began in St. Louis in 1995, started by Dr. William Rosenfeld and Dr. Susan Lippman to honor Dr. Rosenfeld's sister, Sharon, who was killed in a bicycle accident while bicycling cross country. Sharon was wearing a helmet, and unfortunately nothing could have saved her; however, it is estimated that 5% of new cases of epilepsy and 75% of bicycle related fatalities among children could be prevented by wearing a helmet.
Dr. Rosenfeld continues to serve as chairman of the event's nationwide series for the past 21 years, and continues Sharon's legacy of raising awareness about helmet safety and epilepsy. Please stay tuned for more information, coming soon!
To learn how you can get involved, please contact Chilton Harper at charper@efmny.org »
---
EFMNY Executive Director Pamela Conford joined Senator Kirsten Gillibrand (NY) and Senator Cory Booker (NJ) in NYC this week to discuss the CARERS Act legislation to reschedule cannabis/ medical marijuana.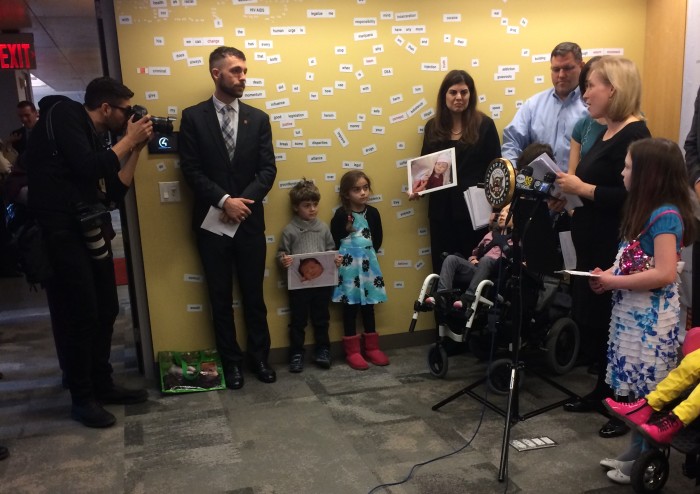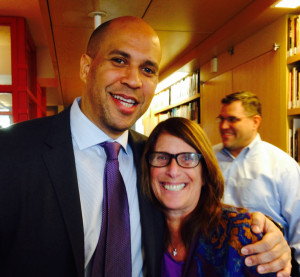 For more information on on how the Compassionate Access and Research Expansion and Respect States (CARERS) Act relates to epilepsy research and treatment, please see our blog post on #EpilepsyNYC.
Tell us what you think! Join the #CARERSAct conversation on the EFMNY Twitter and Facebook pages!
EPILEPSY FOUNDATION ACTION ALERT: Take action! Urge your Senators to support the CARERS Act to facilitate research on cannabis and help the epilepsy community gain safe, legal access to this treatment option. For more information on this Epilepsy Foundation ACTION ALERT, and how you can get involved, please visit the official EFA Action Alert page.
Learn more about how the CARERS Act impacts epilepsy research »
---
The EFMNY is proud to announce that after last year's success, the Studio E Art Therapy Program will be renewed in 2015, thanks to the generous support of program sponsor Lundbeck. Studio E is an ambitious and forward-looking Epilepsy Art Therapy Program. Over the course of 8 weeks, participants work with a licensed art therapist to create art pieces using visual mediums in a group setting. The resulting body of work represents the artists' creativity and unique spirit. For more information on participating in EFMNY's 2015 Studio E Program, please contact info@efmny.org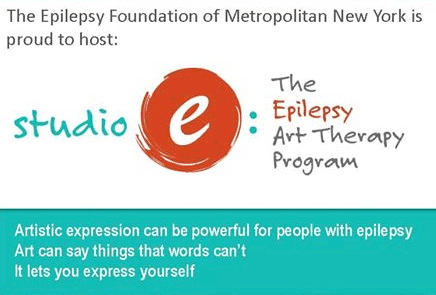 Check out the artwork from last year's Studio E Gallery Exhibit »
---
November 2014 – December 2015
For people living with epilepsy, The Epilepsy Foundation's new "#DareTo" campaign focuses on improving understanding and management of their seizures, including exploring the best available treatment options and best available care. The campaign underscores EFMNY's commitment to being bold and aggressive in accelerating change for all people living with epilepsy. For the general public, #DareTo challenges people to better understand epilepsy, to know how to recognize seizures, and to learn proper first aid.
---
Caregiver Webinar Series and Telephone Support Group
On-going/ Year-round
The Epilepsy Foundation of Metropolitan New York's "Caregiver Webinar Series" and "Telephone Support Groups" are on-going programs that provide parents and caregivers with an opportunity to share stories, resources and coping strategies with one another.
For more information on these programs, please click here »
Para más información en español sobre este programa, por favor haga clic aquí »
---