Upcoming Events
March 15, 2015
The EFMNY is an Official Charity Partner of the 2015 United Airlines NYC Half Marathon! Race through the streets of Times Square, catch beautiful views of the Hudson River from the west side highway, and finish at the iconic South Street Seaport. The 2015 United Airlines NYC Half provides you with an opportunity to transform lives in a direct and meaningful way.

Can't run in this year's Half Marathon? No problem, get involved! Whether or not you are running for a charity or participating in the event, you can raise money and join an official EFMNY charity team, or start your own fundraiser.
Get involved, meet the official EFMNY teams & support our unique mission! »
---
Caregiver Webinar Series and Telephone Support Group
On-going/ Year-round
The Epilepsy Foundation of Metropolitan New York's "Caregiver Webinar Series" and "Telephone Support Groups" are on-going programs that provide parents and caregivers with an opportunity to share stories, resources and coping strategies with one another.
For more information on these programs, please click here »
Para más información en español sobre este programa, por favor haga clic aquí »
---
November 2014 – December 2015
For people living with epilepsy, The Epilepsy Foundation's new "#DareTo" campaign focuses on improving understanding and management of their seizures, including exploring the best available treatment options and best available care. The campaign underscores EFMNY's commitment to being bold and aggressive in accelerating change for all people living with epilepsy. For the general public, #DareTo challenges people to better understand epilepsy, to know how to recognize seizures, and to learn proper first aid.
---
December 5-14, 2014
EFMNY is proud to present Studio E, an ambitious and forward-looking Epilepsy Art Therapy Program, led by Melissa Díaz, LCAT. Please stop by and visit our Studio E Gallery Exhibit, December 5-14, where we are honored to host and display works produced by our Studio-E artists during this year's Epilepsy Art Therapy Program.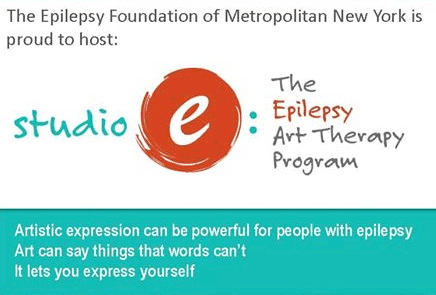 Click here for more information on EFMNY's Studio E Art Therapy Exhibit »
---