Upcoming Events & News
EFMNY Executive Director Pamela Conford joined Senator Kirsten Gillibrand (NY) and Senator Cory Booker (NJ) in NYC this week to discuss the CARERS Act legislation to reschedule cannabis/ medical marijuana.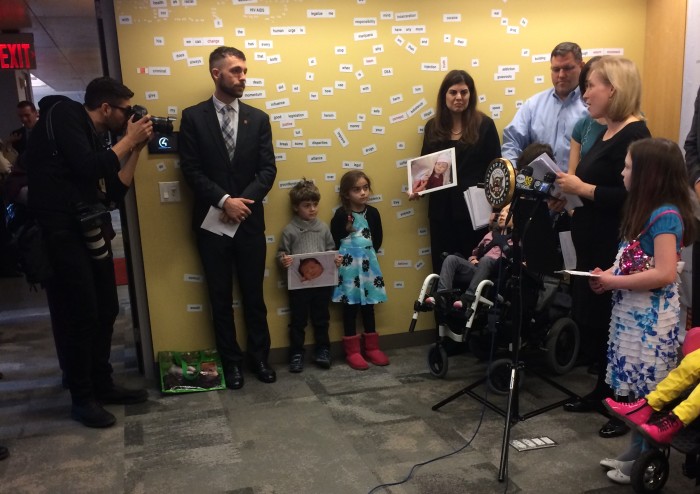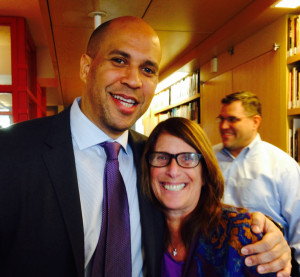 For more information on on how the Compassionate Access and Research Expansion and Respect States (CARERS) Act relates to epilepsy research and treatment, please see our blog post on #EpilepsyNYC.
Tell us what you think! Join the #CARERSAct conversation on the EFMNY Twitter and Facebook pages!
EPILEPSY FOUNDATION ACTION ALERT: Take action! Urge your Senators to support the CARERS Act to facilitate research on cannabis and help the epilepsy community gain safe, legal access to this treatment option. For more information on this Epilepsy Foundation ACTION ALERT, and how you can get involved, please visit the official EFA Action Alert page.
Learn more about how the CARERS Act impacts epilepsy research »
---
March 15, 2015
The EFMNY is an Official Charity Partner of the 2015 United Airlines NYC Half Marathon! Race through the streets of Times Square, catch beautiful views of the Hudson River from the west side highway, and finish at the iconic South Street Seaport. The 2015 United Airlines NYC Half provides you with an opportunity to transform lives in a direct and meaningful way.

Can't run in this year's Half Marathon? No problem, get involved! Whether or not you are running for a charity or participating in the event, you can raise money and join an official EFMNY charity team, or start your own fundraiser.
Get involved, meet the official EFMNY teams & support our unique mission! »
---
Saturday, April 11, 2015

The EFMNY is proud to have combined digital forces to create this awesome fundraising team in support of the national Epilepsy Foundation. On Saturday, April 11, 2015, our team will join hundreds of other teams in participating in the 9th Annual National Walk for Epilepsy in Washington, D.C.
With 1 in 26 people developing epilepsy at some point in their lives, we are helping to raise awareness about seizures and are raising money to help accelerate the development of new therapies.
Want to help? Support the Epilepsy Foundation & EFMNY by making a donation to our team »
---
Caregiver Webinar Series and Telephone Support Group
On-going/ Year-round
The Epilepsy Foundation of Metropolitan New York's "Caregiver Webinar Series" and "Telephone Support Groups" are on-going programs that provide parents and caregivers with an opportunity to share stories, resources and coping strategies with one another.
For more information on these programs, please click here »
Para más información en español sobre este programa, por favor haga clic aquí »
---
The EFMNY is proud to announce that after last year's success, the Studio E Art Therapy Program will be renewed in 2015, thanks to the generous support of program sponsor Lundbeck. Studio E is an ambitious and forward-looking Epilepsy Art Therapy Program. Over the course of 8 weeks, participants work with a licensed art therapist to create art pieces using visual mediums in a group setting. The resulting body of work represents the artists' creativity and unique spirit. For more information on participating in EFMNY's 2015 Studio E Program, please contact info@efmny.org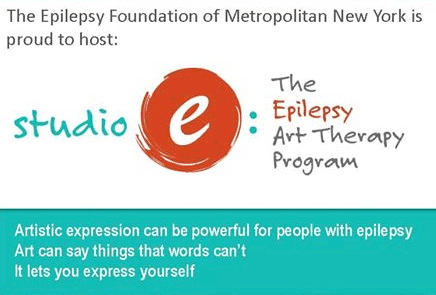 Check out the artwork from last year's Studio E Gallery Exhibit »
---
November 2014 – December 2015
For people living with epilepsy, The Epilepsy Foundation's new "#DareTo" campaign focuses on improving understanding and management of their seizures, including exploring the best available treatment options and best available care. The campaign underscores EFMNY's commitment to being bold and aggressive in accelerating change for all people living with epilepsy. For the general public, #DareTo challenges people to better understand epilepsy, to know how to recognize seizures, and to learn proper first aid.
---