Upcoming Events
December 2014 – January 2015
The Epilepsy Foundation of Metropolitan New York would like to take the opportunity to wish you Happy Holidays during this special time of the year – a time for hope, for sharing, and for caring. As a person who appreciates the impact epilepsy has on peoples' lives, please celebrate the season by making a holiday donation to EFMNY, the New York City area's only organization specializing in both raising public awareness about epilepsy and providing supports and services to persons affected by seizures.
Your holiday donation will make a difference in many ways. It will provide the resources to increase awareness and educate the public about the need to accelerate research, so that better treatments are available and a cure is reached. It will help parents and family members learn more about resources, supports, programs and therapies. It will reassure individuals living with epilepsy that they are not alone. It will alert our entire community about where they can go for help, including receiving personalized services and supports only offered through EFMNY.
Thank you for supporting the EFMNY and its unique mission.
Please help us serve this special community by making a donation today »
---
December 5-14, 2014
EFMNY is proud to present Studio E, an ambitious and forward-looking Epilepsy Art Therapy Program, led by Melissa Díaz, LCAT. Please stop by and visit our Studio E Gallery Exhibit, December 5-14, where we are honored to host and display works produced by our Studio-E artists during this year's Epilepsy Art Therapy Program.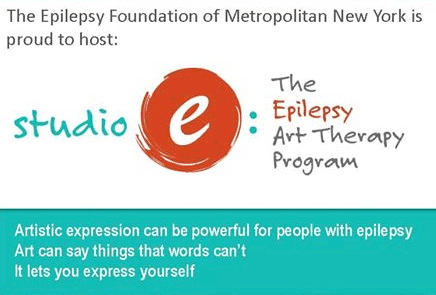 Click here for more information on EFMNY's Studio E Art Therapy Exhibit »
---
March 15, 2015
EFMNY is a proud Charity Partner of the NYRR 2015 United Airlines NYC Half-Marathon. The NYC Half will take runners from around the city and the globe on a 13.1-mile tour of NYC. Led by a talent-packed roster of American and international elites, runners will stop traffic in Manhattan, from Central Park through Times Square to South Street Seaport!
Stay tuned for more information on how you can support EFMNY by getting involved in the 2015 NYC Half-Marathon!
---
Caregiver Webinar Series and Telephone Support Group
On-going/ Year-round
The Epilepsy Foundation of Metropolitan New York's "Caregiver Webinar Series" and "Telephone Support Groups" are on-going programs that provide parents and caregivers with an opportunity to share stories, resources and coping strategies with one another.
For more information on these programs, please click here »
Para más información en español sobre este programa, por favor haga clic aquí »
---
November 2014 – December 2015
For people living with epilepsy, The Epilepsy Foundation's new "#DareTo" campaign focuses on improving understanding and management of their seizures, including exploring the best available treatment options and best available care. The campaign underscores EFMNY's commitment to being bold and aggressive in accelerating change for all people living with epilepsy. For the general public, #DareTo challenges people to better understand epilepsy, to know how to recognize seizures, and to learn proper first aid.
---