Events & News
5th Annual Into The Light Walk for Epilepsy Awareness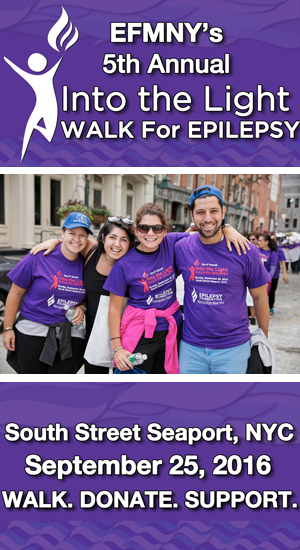 Sunday, September 25, 2016
South Street Seaport, NY
Now in its fifth edition, our goal is to make this—our signature annual event—the most successful one yet this year!
We look forward to having back all of the returning Teams and Individuals from prior Walks and to welcoming for the first time those of you who are new to the event. The special camaraderie of thousands of caring individuals who gather together to celebrate the cause of epilepsy makes this a truly special occasion for all participants.
The historic South Street Seaport will welcome everyone once more with check-in at 9am, welcoming and recognition at 10:30am, and the Walk at 11am. But once the Walk is done, why not make a day of it in Lower Manhattan, and enjoy yourself!
Stay tuned for full event details, as of June 1.
"…we really enjoyed the Walk and we are already looking forward to next year's event. We are planning on an even bigger Team so roll on 2016!"
—Team Captain from the 2015 Walk

For more information, please contact Chilton Harper »
---
UPCOMING EVENTS 2017
---
Into The Light Golf Tournament at Metropolis Golf Club
Monday, May 15, 2017
White Plains, NY
John Cahill, Daniel Segal, and Chilton Harper of the Host Committee invite you to join us for a day of golf and fun in the sun! Staged in a 4-person scramble format, participants will play a round of golf with cart, followed by an awards ceremony with cocktails/ hors d'oeuvres and a silent auction.
Metropolis Golf Club is a challenging Par 71 golf course featuring many doglegs, uneven lies, and almost 6,800 yards in length with undulating greens that are a test of every aspect of the best player's shot-making ability.
Work on your grip, practice your short game, improve your backswing and go for par with fellow epilepsy advocates and golf enthusiasts, all while supporting the Epilepsy Foundation of Metropolitan New York's unique mission!
Register Now:
Foursome - $1,900
Individual Entry - $475
I will not be attending but wish to donate.
For additional Ticket and Donation information, please contact Chilton Harper at charper@efmny.org or 917-856-5717 »
---
PAST SPECIAL EVENTS
---
ALL-YOU-CAN-EAT BREAKFAST in Support of EFMNY!
Sunday, May 15, 2016
8AM – 12PM
Father John C. Drumgoole Knights of Columbus Council # 5917
397 Clarke Avenue (corner of St. Patrick's Place & Clarke Avenue)
Staten Island, NY 10306
The Fr. John C. Drumgoole Knights of Columbus Council # 5917 is serving breakfast, Sunday, May 15th, starting at 8 AM and finishing at Noon. The breakfast features an all-you-can-eat offering of pancakes, scrambled eggs, sausage, orange juice, and coffee or tea, all for just $5 for adults, $3 for children (under 12), and FREE for children (under 5). The breakfast will be served at the above-listed address.
The Charity to be supported by your generous participation at the breakfast will be The Epilepsy Foundation of Metropolitan New York, the only specialized social service agency in New York City that is dedicated to providing those suffering from Epilepsy with the critical care which they need.

Please come and support the Knights, and their charitable work for those with Epilepsy and their families in our community, and enjoy a tasty breakfast!
---
Epilepsy Across The Life Span

April 25, 2016
Pace University
Lower Manhattan, NY
Presented in collaboration with NewYork-Presbyterian/ Lower Manhattan Hospital, Weill Cornell Medicine, Epilepsy Foundation of Metropolitan New York and Pace University.


---
Into The Light Dinner Gala
April 7, 2016
Please join EFMNY as we celebrate our 50th year of providing vital services and supports to the epilepsy community, and as we gather to honor Epileptologist, Researcher, and long time Chair of our Professional Advisory Board Shlomo Shinnar, MD PhD, and Ruth Shinnar, RN MSN, Clinical Nurse Specialist. Both have dedicated over 20 years in strong support of the EFMNY and its mission of providing help, hope, and support to persons with epilepsy and their families.
All funds raised will go directly towards supporting our vocational, educational, advocacy, and clinical services. Enjoy the stunning vista of New York Harbor amid friends and colleagues, while making a genuine difference in the lives of persons with epilepsy.
Register Now:
Table for 10 - $2,500
Individual Seats - $250 each
I will not be attending but wish to donate.
Contact us for additional Sponsorship, Ticket, and Donation information »

---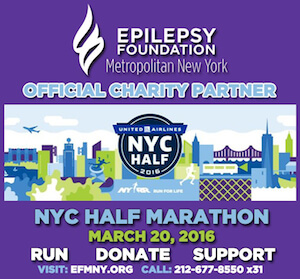 March 20, 2016
The Epilepsy Foundation of Metropolitan New York is an official charity partner of the 2016 United Airlines NYC Half Marathon!
When you support Team EFMNY, you are helping us raise epilepsy awareness and further our Into The Light programs, which are free of charge, open to all and serve to empower individuals and families affected by epilepsy and seizure disorder. These programs let others know they are not alone, and assist those navigating through life with epilepsy by providing information on access to treatments, resources and a supportive community.
The NYC Half provides you with an opportunity to transform lives in a direct and meaningful way. By supporting the runners of Team EFMNY, you can truly make every mile count.
Meet our runners and support Team EFMNY today! »
---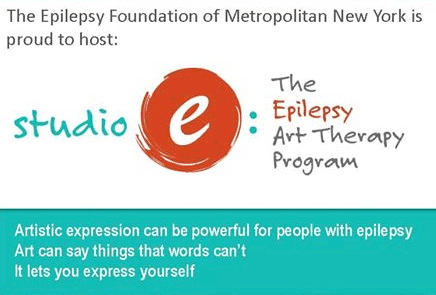 December 4, 2015 – January 4, 2016
EFMNY is proud to present its 2nd Annual Studio E Exhibit, showcasing an ambitious and forward-looking Epilepsy Art Therapy Program. This important exhibit showcases the work created by participants of the EFMNY's Studio E Art Therapy Program sponsored by Lundbeck.
Visit the exhibition today and show your support for the artists and EFMNY's unique mission to provide epilepsy awareness, advocacy, and vital services and supports to individuals and families affected by epilepsy.
Click here to view this year's artwork »
---
December 1 – December 7, 2015
Infantile Spasms is a very rare form of epilepsy that typically begins within the first few months of life and carries the potential to put an infant's long-term development at risk. Join the Epilepsy Foundation of Metropolitan New York and Mallinckrodt Pharmaceuticals as we lead the way in educating pediatricians, neurologists, parents and caregivers about the latest information on the diagnosis and treatment of Infantile Spasms.
In honor of Infantile Spasms Awareness Week, please share this video with friends and family, and help us bring awareness to the world.
---
EFMNY Executive Director Pamela Conford joined Senator Kirsten Gillibrand (NY) and Senator Cory Booker (NJ) in NYC this week to discuss the CARERS Act legislation to reschedule cannabis/ medical marijuana.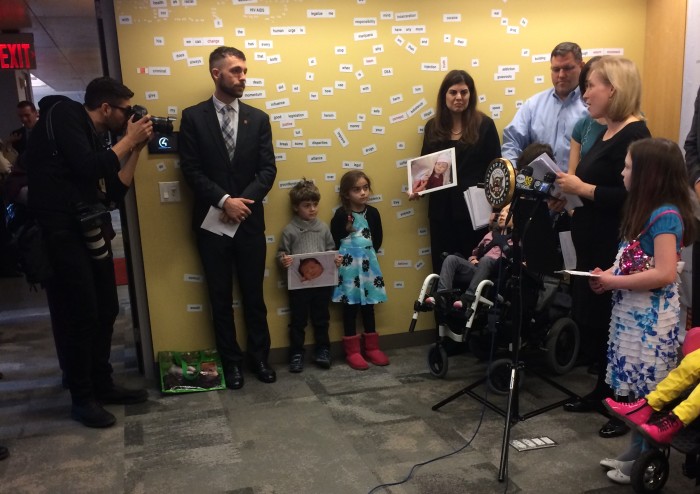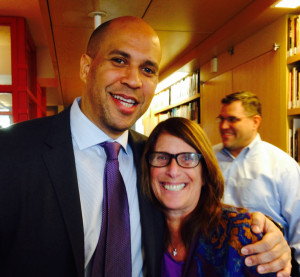 For more information on on how the Compassionate Access and Research Expansion and Respect States (CARERS) Act relates to epilepsy research and treatment, please see our blog post on #EpilepsyNYC.
Tell us what you think! Join the #CARERSAct conversation on the EFMNY Twitter and Facebook pages!
EPILEPSY FOUNDATION ACTION ALERT: Take action! Urge your Senators to support the CARERS Act to facilitate research on cannabis and help the epilepsy community gain safe, legal access to this treatment option. For more information on this Epilepsy Foundation ACTION ALERT, and how you can get involved, please visit the official EFA Action Alert page.
Learn more about how the CARERS Act impacts epilepsy research »
---
Caregiver Webinar Series and Telephone Support Group
On-going/ Year-round
The Epilepsy Foundation of Metropolitan New York's "Caregiver Webinar Series" and "Telephone Support Groups" are on-going programs that provide parents and caregivers with an opportunity to share stories, resources and coping strategies with one another.
For more information on these programs, please click here »
Para más información en español sobre este programa, por favor haga clic aquí »
---